Cwmbran Centre improves parking for disabled people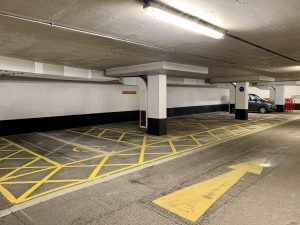 Cwmbran Centre has created six additional carpark spaces for disabled people following the recent publication of a report by the Disability Advice Project (DAP) suggesting possible improvements.
The shopping centre has added four spaces in the General Rees lower carpark (next to the electric car chargers) and a further two with protected rear access in the Monmouth carpark. It is also improving carpark signage to help people find spaces.
DAP's report, published in March 2021, highlighted the need for additional parking provision for disabled people and amends to the design of existing spaces at Cwmbran Centre.
Tony Crowhurst, DAP Access Officer, said: "We were happy to meet with Cwmbran Centre to take them through our report and explain the impact on disabled people. We are delighted they have acted quickly to improve parking and are listening to the needs of disabled people. We hope to see more improvements in future."
Rikki Teml, Centre Manager at Cwmbran Centre, commented: "Our priority is to ensure Cwmbran Centre is accessible for all visitors and we have worked hard over the years to ensure our facilities meet the needs of all our users. We take this incredibly seriously and are continually reviewing opportunities to improve accessibility throughout our centre. Cwmbran Centre performs above the current British Car Parking Association's best practice guidelines and we regularly employ third-party auditors to review existing provision, ensuring we continue meeting – or exceeding – these guidelines."
Are you interested in helping us drive change for disabled people across Torfaen? Why not join our Torfaen Accessibility Forum (TAF)! TAF brings disabled people, carers, businesses, charities and Council members together to find ways to improve the life opportunities and experiences of disabled people. Everyone is welcome. Our next TAF meeting is Wednesday 26th May. To register email: taf@dapwales.org.uk