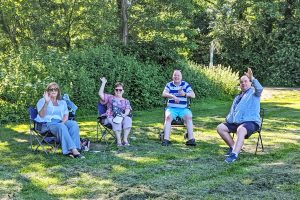 There are many opportunities to volunteer at DAP.  We welcome people who have experience of disability or caring and anyone who wants to help improve the situation of those with long-term illness or disability.
Many of our volunteers have previously been DAP clients. 
"Volunteering with DAP has helped me with my self-esteem and confidence. As a disabled person it has helped me feel included and it is wonderful to be able to help others in similar situations."
What we will offer you
DAP provides a warm and welcoming environment. We support volunteers professionally and personally. We will provide you with:
Full training for the role
Support and mentoring from a named member of staff
Travel expenses
Opportunities to increase professional skills and set personal development goals
We value you
We are committed to supporting our volunteers and ensure that everyone enjoys their experience with us. Volunteers have told us that they value:
Making a difference to individuals, families and carers
Learning new skills and increasing their confidence
Doing something that is different and inspiring
Having a reason to get up in the morning and a sense of achievement at the end of the day
Being able to give something back and help people who really need support
Our professional approach
DAP is a volunteer led organisation with more than twenty years' experience. We have a dedicated Volunteer Co-ordinator and continue to passionately achieve the Investors in People award. This represents the best practice we have in place to ensure our volunteers have a quality experience at DAP. All those involved with DAP are treated equally.
How to apply to become a volunteer
If you would like to volunteer with us:
Complete and submit our volunteer application form
Receive an invitation for an interview, this is very relaxed and informal
Join the DAP team