Support to help you at home
If you, or someone you know, needs help to do everyday tasks or you're worried about falling, ask your local authority's social services department for a free assessment. You can arrange an assessment for a relative or friend if the person agrees (unless they don't have the capacity to make that decision themselves).
If you're a carer, you are also entitled to a free carer's assessment.
Your local authority must assess you to find out if you have needs for care and support. If you are found to have eligible needs, the local authority has a duty to ensure they are met.
What does an assessment involve?
A care needs assessment works out what help or support you need with your care, and how you might get it. A social care professional will usually come to see you, or you may be offered a telephone or online assessment of your needs. Talk to them about any difficulties you have in looking after yourself and the impact these have on your wellbeing. For example, if you are finding it difficult to wash and get dressed or open cupboards.
Ask a friend or relative to be with you during an assessment. It is a good idea to ask your friend or relative to take notes of what is discussed so you have a record. You can use an advocate if you can't get a friend or relative. These are people who sit with you during an assessment and speak for you. They can also help you to fill in forms. Your local authority will be able to put you in touch with an advocate service.
Care services at home
Carers can provide care at your home. For example, they could visit to help you with washing and meal preparation, cleaning and shopping. Most local councils charge for the services they provide in your home. Your local council will work out how much you can afford to pay, and this should leave you with a reasonable level of income.
Arranging private care
If you have sufficient financial resources you can organise care services independently of the local authority. However, even if you do opt for arranging services privately, it can still be helpful to get an initial assessment of your care needs from the local authority prior to arranging your services. Your social services department should also be able to provide you with details of approved private agencies.
Private agencies must be registered with the Care Inspectorate Wales.
Adaptations and equipment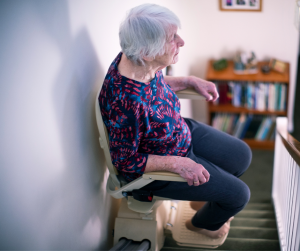 If equipment or adaptations are required, an occupational therapy (OT) assessment may be of benefit. An occupational therapist can advise on suitable disability equipment or adaptations to make your life easier and help you to be as independent as possible. An OT looks at all aspects of your daily life to see what activities you find difficult and whether there's another way you could do them. Following an OT assessment, a care plan should be agreed with you and a copy given to you. This will detail what needs you have and what could help to meet those needs. It will also explain what adaptations they're going to recommend and why.
Arranging your own OT assessment
An OT assessment from your local authority is free. However, this can take time and there may be a waiting list. If you can afford it, you can organise an OT assessment yourself. The Royal College of Occupational Therapists has an online directory that lists qualified and registered occupational therapists in your local area.
Am I entitled to help with paying for disability equipment or home adaptations?
There are many solutions aimed at helping you to remain independent. Your home needs to work for you, so it is a good idea to put together a list of things you struggle with and consider what changes could be made to make tasks easier and safer. For example, if you use a wheelchair, widening door frames and changing the direction that doors open could make it easier to get around.
Local authorities and housing associations have a budget to pay for small changes to your home. These are not means-tested (based on your income and savings). If you do not own your home, you will need permission from your landlord to make any changes to physical features. If you count as disabled under the Equality Act, you have the right to reasonable adjustments.
Adaptations could include:
grab rails/banister rails
simple ramps or steps
intercom system
motion-sensor lights
a wall fixed shower seat
grab rails in the bathroom
Disabled Facilities Grant (DFG)
For more expensive home adaptations, you can apply to your council for a Disabled Facilities Grant (DFG). A means test may apply for major work.
Adaptations can include things like:
fitting a stairlift
walk-in shower
downstairs toilet

through floor lifts

door widening
If you have an illness or disability and cannot get the help
you need from your local council or the NHS, you might be able to get a grant
to help with the costs.
Independence at Home has grants for disabled people and those with a long-term illness who need financial help.
There is a wide range of household equipment and gadgets that you can purchase to make everyday tasks easier including:
Using the bathroom and toilet
Long-handled sponges
Long-handled bottom wiper
Foot-cleaning mats
Inflatable bathing cushion
Cooking and eating
Assistive tin, bottle and jar openers
A trolley to help you move food and drink
Easy-reach grabbers to help pick up items
Getting dressed
Hooks to help pull zips, undo buttons and pull jackets on
A long-handled shoehorn to help put on your shoes
Gadgets to help put socks, tights and pants on
Staying safe
A key safe so carers can let themselves in
A wearable personal alarm you press to call for help
A fall detector that alerts a response centre if you have fallen
How can the Disability Advice Project help?
Our friendly advisers have plenty of experience with home adaptations and PIP claims. We can help you to find appropriate support. We can also help you to apply for benefits and grants. Please book an appointment with our friendly caseworkers who can help fill in forms and collate any evidence needed to support your claim. We will support you throughout the process and help ensure you get the benefits and support you are entitled to.
Useful links
Disability Advice Project have used the services of Enable Me Solutions, who offer private Occupational Therapy (OT) across South Wales. They have extensive experience in housing adaptations, equipment provision and care plans that help enable you to be as independent as possible.
You can get support and care from the British Red Cross to help you live independently at home or when you return after a stay in hospital. You can hire a wheelchair and toilet aids from the British Red Cross for short-term use.
Scope offers a range of support services for disabled people. This includes information on disability equipment and assistive technology, housing and home adaptations.
Care and Repair helps older people across Wales live in safety and comfort in their own homes. Its services include assisting you to improve, repair or adapt your home and are available to individuals aged 55 or over, or of any age with a disability.
Age Cymru offers free advice to older people on topics such as benefits and arranging care.