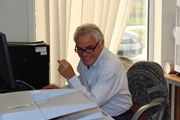 Allan Thomas who dedicated 20 years to DAP recently passed away and left a void in the hearts of all of us here.
This year to raise money one of the things he wanted to do was the Cardiff Half Marathon. His desire is now our inspiration several of us will run it for him.
To Sponsor us please click https://mydonate.bt.com/events/inspiredbyonespecialman/418851
Interested in running it for us too, then please contact us at info@dapwales.org.uk.
Thank you for your support and generosity.