Health and Social Care event brings charities together in Brynmawr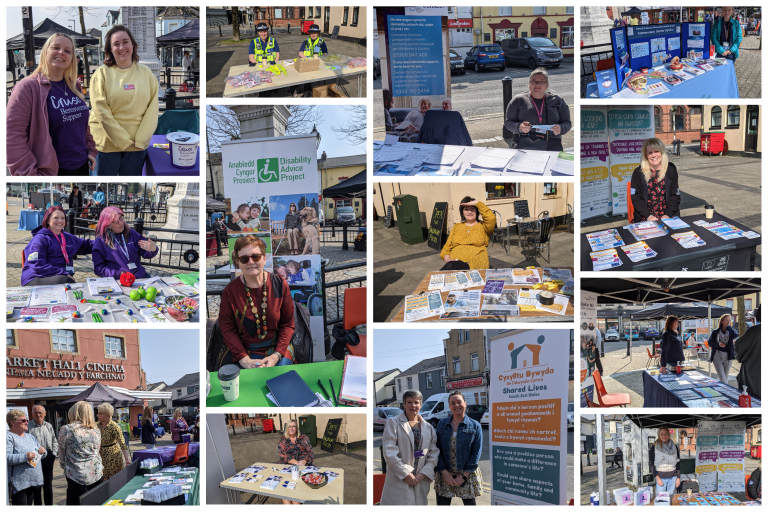 Disability Advice Project joined Aneurin Bevan University Health Board's Health and Social Care Event on Thursday 24 March outside the Market Hall Cinema, in Brynmawr.
The event was attended by 16 organisations including Alzheimer's UK, Blaenau Gwent Integrated Wellbeing Network, Cyfle Cymru, Heddlu Gwent Police, Shared Lives, Trusting Hands and Women's Aid.
We gave advice to members of the community on issues including benefits for carers and support for young adults with learning disabilities.
Jayne Salkeld, Joint Project Manager at Disability Advice Project, said: "Many people with disabilities are still isolated because of covid and have not been able to return to the activities they enjoyed before the pandemic. Bringing so many organisations together provided an excellent opportunity to tell people about what support is available. We plan to do more community engagement across Gwent, so we can reach more people with information about benefits and services."
Aimee Williams, Alzheimer's Society, added: "The Disability Advice Project has been a lifesaver for our service users. I know that if I refer someone to the project, they will get help. It is a pleasure to see how people's lives can be transformed with the right support."
Disability Advice Project helps ensure disabled people, their families and carers receive the financial support and care they are entitled to. It also promotes social inclusion and campaigns against the discrimination of people with disabilities.