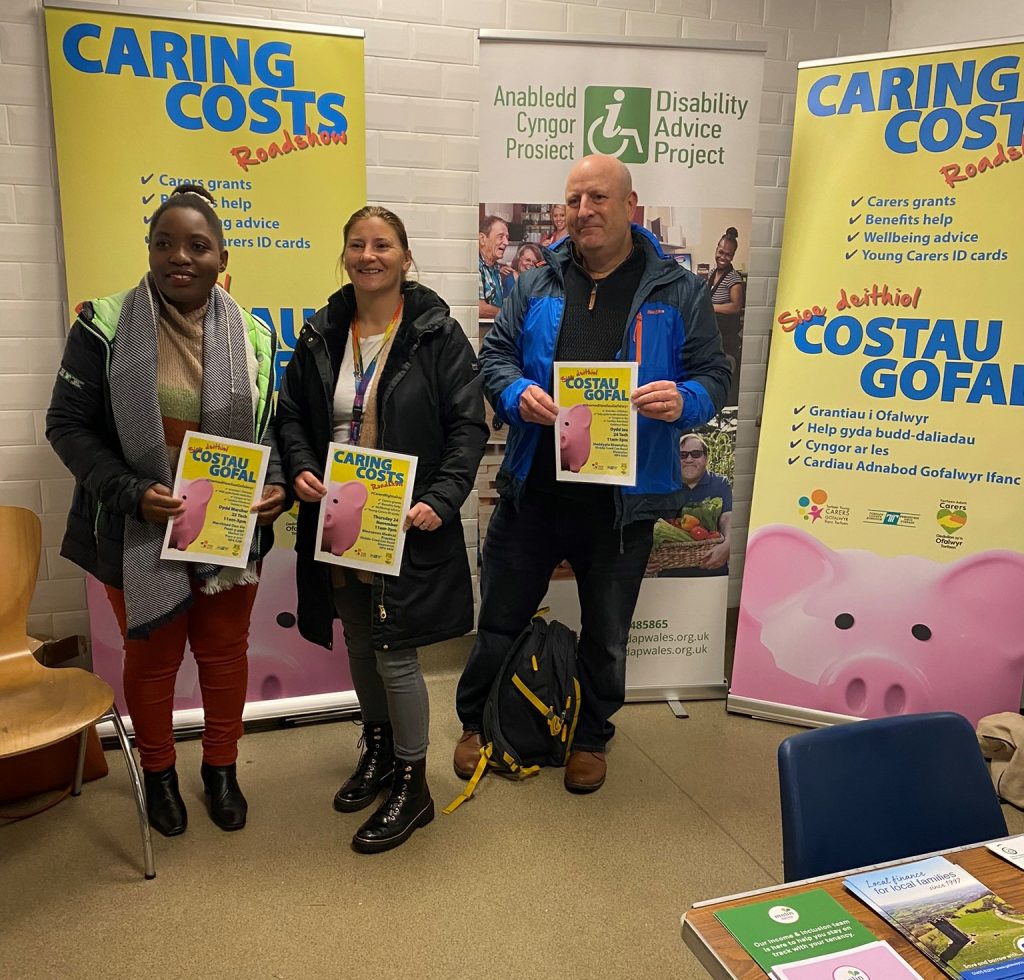 Disability Advice Project joined Torfaen County Borough Council's roadshow to support unpaid carers concerned about the rising cost of living.
The roadshow events at Pontypool Indoor Market, Cwmbran Library and Blaenavon Medical Practice coincided with Carers Rights Day on Thursday 24 November.
Carers were able to access benefits and grants advice, as well as information about ways to reduce energy costs. They also received support with other household bills and information about community groups and how to use their local foodbank.
Young Carers were able to sign up for a Young Carers ID card. This helps professionals including doctors, teachers and pharmacists to support them appropriately. For example, the cards make it easier for young carers to collect prescriptions.
Jayne Salkeld, Joint Project Manager at Disability Advice Project, said: "These events are so important for carers to find out about the support available. Being a carer isn't easy and we encourage people to check what help they are entitled to, not just financially but also with regards to their wellbeing and that of the person they care for. It is so important to be able to take a break, meet with friends and continue doing the things you enjoy."
Check benefit entitlement
National insurance protection
Council tax
Grants
Blue badge entitlement
Register as a carer with your GP and the GP of the person you are caring for
Let healthcare services know you are a carer, for example your pharmacist
Contact your local authority to request a health and social care assessment for the person you care for. They should arrange a visit to discuss how their care needs can be met and ways to improve access in the home to help maintain independence. As a carer you are also entitled to a carer's assessment from your local authority.
Enquire about respite care
Keep information in your purse or wallet that shows you are a carer
Keep a list of all contacts, prescriptions, dosage etc in a handy location
Plan what would happen in an emergency
Find out about local support groups
Check for carers discounts on everything from public travel to entrance fees at visitor attractions
For information about support for unpaid adult carers in Torfaen, email Louise Hook: louise.hook@torfaen.gov.uk or follow the Torfaen Adult Carers Facebook page.
For details about support for young carers, email: Rebecca Elver: rebecca.elver@torfaen.gov.uk, or follow Torfaen Young Carers on Facebook.
Useful resources and organisations
The Charter for Unpaid Carers sets out the legal rights and principles of all unpaid carers in Wales. These rights are the same for all unpaid carers, whether they are an adult, a young person or a child.
Carers Wales
https://www.carersuk.org/wales
Carers Trust
Mobilise
https://www.mobiliseonline.co.uk/
Care Collective
https://thecarecollective.wales/
Contact – for families with disabled children